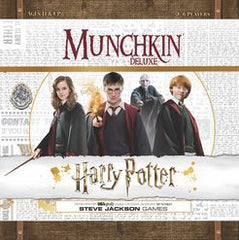 Munchkin Harry Potter Deluxe
Product is currently unavailable. Please email us @ info[at]woodforsheep.ca with Subject: ORDER Munchkin Harry Potter Deluxe and we will notify you once this item becomes available. Request Deposit required.
The classic role-playing card game now features iconic Harry Potter villains and heroes. Players act as students from their favourite Hogwarts house and collect Proficiency, Item, and Ally cards to combat Death Eaters and other villains and monsters in a race to achieve top level victory.
Dungeon Crawling | Munchkin | Parody | Party | Spin-off