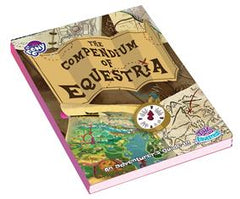 My Little Pony Compendium of Equestria
Product is currently unavailable. Please email us @ info[at]woodforsheep.ca with Subject: ORDER My Little Pony Compendium of Equestria and we will notify you once this item becomes available. Request Deposit required.
A must-have 90+ page hardback for GMs and players wanting to include the latest content as well as brand new creatures, characters, adventures, and items! GMs can use both the Locations and GM's Toolkit sections to help fill their games with deep and interesting settings, and plenty of new features including talents and magical treasure.
Players will find new playable races. Together, you will find some great new spells and talents to use in your adventures.
Finally, you'll find a fully self-contained adventure: Flim, Flam, Alakazam! This can be used as a standalone story, or as part of a longer campaign, and it's a great opportunity to make use of the new content!