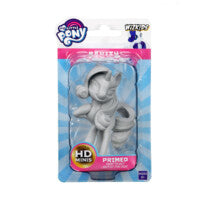 My Little Pony Deep Cuts Rarity
Product is currently unavailable. Please email us @ info[at]woodforsheep.ca with Subject: ORDER My Little Pony Deep Cuts Rarity and we will notify you once this item becomes available. Request Deposit required.
Fans can now get creative with their favorite ponies and decorate them any way they want. Each miniature comes pre-primed and ready to paint right out of the box. The included decals and stickers of Cutie Marks help to complete each pony's signature look. Now fans can come up with a look for their favorite pony that's at least 20% cooler.