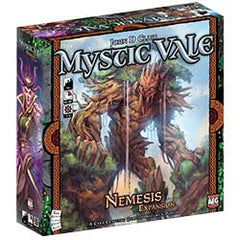 Mystic Vale Nemesis
Product is currently unavailable. Please email us @ info[at]woodforsheep.ca with Subject: ORDER Mystic Vale Nemesis and we will notify you once this item becomes available. Request Deposit required.
Ages: 14+
Players: 1-4
Playing Time: 45-60 minutes
Designer: John D. Clair
Publisher: Alderac Entertainment Group
Requires: Mystic Vale
Dreaded nemesis and ancient enemies invade the Valley of Life.
Only the combined might of the druidic clans can oppose them. Aided with awakened titans, druids must defeat the rising threats to restore harmony and balance to Gaia's realm.
This expansion adds new advancement and vale cards to the base game, giving players more card crafting options and exciting new possibilities for combos. Leader cards in the form of titans grant abilities that can be upgraded to become even more powerful! Curse tokens offer players a quicker path to power, but with a price at the end of the game. Nemesis cards introduce an exciting new variant for a solitaire game!