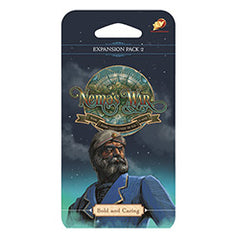 Nemo's War Bold and Caring
Product is currently unavailable. Please email us @ info[at]woodforsheep.ca with Subject: ORDER Nemo's War Bold and Caring and we will notify you once this item becomes available. Request Deposit required.
Ages: 13+
Players: 1-4
Playing Time: 120 minutes
Designer: Chris Taylor
Publisher: Victory Point Games
Requires: Nemo's War (2017)
Features two new motives for Captain Nemo: Adventure and Humanist!
With the Adventure motive, you can also commence play with a new Nautilus Upgrade card: Diving Apparatus which assists you with all Test rolls for which you spend 2 Actions and helps keeps the Adventure Deck stocked with gemstones.
The Humanist motive sees Captain Nemo desiring to better the plight of the common people. Potentially starting with the Hospital Machines Upgrade card, it allows the Captain to parley with ships at sea using "Diplomacy Attacks".
Adventure | Area Control | Expansion | Exploration | Sci-fi