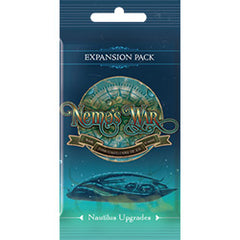 Nemo's War Nautilus Upgrades
Product is currently unavailable. Please email us @ info[at]woodforsheep.ca with Subject: ORDER Nemo's War Nautilus Upgrades and we will notify you once this item becomes available. Request Deposit required.
Ages: 13+
Players: 1-4
Playing Time: 120 minutes
Designer: Alan Emrich
Publisher: Victory Point Games
Requires: Nemo's War (2017)
12 new Nautilus Upgrade cards including the Clockwork Cipher, The Adventurer's League, Nemo's Manifesto, Prize Crew Quarters, and more! Sail aboard the Nautilus as you have never sailed with her before.
Adventure | Area Control | Expansion | Exploration | Sci-fi