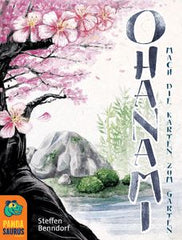 Ohanami
Product is currently unavailable. Please email us @ info[at]woodforsheep.ca with Subject: ORDER Ohanami and we will notify you once this item becomes available. Request Deposit required.
Ages: 8+
Players: 2-4
Playing Time: 20 minutes
Designer: Steffen Benndorf
Publisher: Pandasaurus Games
A deck of 120 cards that are numbered from 1-120, with each card having one of four symbols on it. The game lasts three rounds, with players scoring at the end of each round, in addition to bonus scoring at the end of the game.