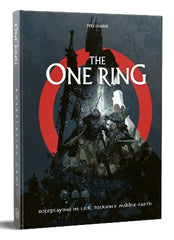 One Ring RPG (2021) Core Rulebook
Product is currently unavailable. Please email us @ info[at]woodforsheep.ca with Subject: ORDER One Ring RPG (2021) Core Rulebook and we will notify you once this item becomes available. Request Deposit required.
Contains rules for creating heroes and sending them off on adventures in a land threatened by the growing Shadow. Rules for travelling across the land (Journey), facing frightening foes (Combat), and meeting the personalities of Middle-earth (Council). Thorough advice for the Loremaster on how to bring Middle-earth to life, including rules for magical treasure, the Shadow, and the Eye of Mordor. In-depth information on six Patrons — individuals sponsoring the adventures of the Player-heroes — including Bilbo Baggins and Gandalf the Grey. A bestiary containing a spread of adversaries, from lowly Orc Soldiers and Highway-robbers, to monstrous Cave-Trolls and Barrow-Wights. A complete Landmark adventure, The Star of the Mist, with extra support for new Loremasters, in the form of tutorial advice throughout.
Adventure | Exploration | Fantasy | Lord of the Rings | Spin-off