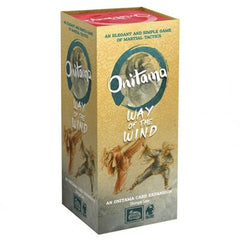 Onitama Way of the Wind
Product is currently unavailable. Please email us @ info[at]woodforsheep.ca with Subject: ORDER Onitama Way of the Wind and we will notify you once this item becomes available. Request Deposit required.
Ages: 8+
Players: 2
Playing Time: 10 minutes
Designer: Shimpei Sato
Publisher: Arcane Wonders
Requires: Onitama
Find the wind spirit, a neutral game piece that will create a new layer of interaction in the game.