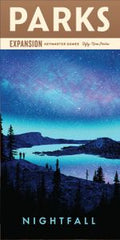 Parks Nightfall
Product is currently unavailable. Please email us @ info[at]woodforsheep.ca with Subject: ORDER Parks Nightfall and we will notify you once this item becomes available. Request Deposit required.
Ages: 9+
Players: 1-5
Playing Time: 40-60 minutes
Designer: Mattox Shuler
Publisher: Keymaster
Requires: Parks
Find new Park Cards featuring new rewards and all new artwork from the Fifty-Nine Parks Print Series, including the 17 parks not represented in the base game. This expansion also includes new Year Cards and Bonus Scoring opportunities, and you'll get to experience the trail in a brand new way with the new Camping mechanic.
Expansion | Logistics | Modular Board | Role/Phase Selection | Set Collection | Tiles