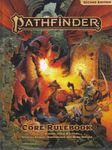 Pathfinder RPG Core Rulebook (2nd)
Product is currently unavailable. Please email us @ info[at]woodforsheep.ca with Subject: ORDER Pathfinder RPG Core Rulebook (2nd) and we will notify you once this item becomes available. Request Deposit required.
This comprehensive 640-page guide to the Pathfinder roleplaying game provides everything you need to set out on a world of limitless fantasy adventure! Choose from ancestries like elf, human, and goblin and classes like alchemist, fighter, and sorcerer to create a hero of your own design destined to become a legend! The new Pathfinder rules are easy to learn and exciting to master! This indispensable volume contains all rules for players and Game Masters, and is your first step on a heroic new journey!