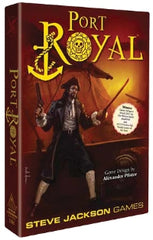 Port Royal
Product is currently unavailable. Please email us @ info[at]woodforsheep.ca with Subject: ORDER Port Royal and we will notify you once this item becomes available. Request Deposit required.
Ages: 8+
Players: 2-5
Playing Time: 60 minutes
Designer: Alexander Pfister
Publisher: Steve Jackson Games
Will you become the richest, most notorious merchant in Port Royal? Or will you end up with an empty cargo hold?
At last, the award-winning game of competing pirate-merchants is available in North America!
Players vie to hire the best Admirals, Sailors, Traders, and Mademoiselles to expand and fortify their vast shipping empires! On your turn, you'll push your luck to amass the most wealth or to hire the best characters – but if you push it too far, you get nothing, so be wary.