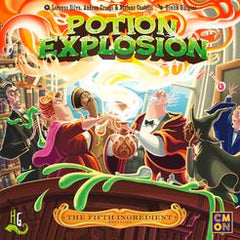 Potion Explosion Fifth Ingredient
Product is currently unavailable. Please email us @ info[at]woodforsheep.ca with Subject: ORDER Potion Explosion Fifth Ingredient and we will notify you once this item becomes available. Request Deposit required.
Ages: 8+
Players: 2-5
Playing Time: 30-60 minutes
Designer: Stefano Castelli, Andrea Crespi,
Lorenzo Silva
Publisher: Horrible Guild
Requires: Potion Explosion
At the Horribilorum Sorcery Academy for Witty Witches and Wizards, we are not afraid of ghosts! This expansion introduces a new spooky ingredient: Ghost Ectoplasm! But don't panic as the new Professors will teach you how to handle it safely and use it to brew powerful new potions!
Step up the game to a whole new level! Thanks to the fifth ingredient acting as a joker, players can now trigger even more incredible explosions to prepare their potions. Four new potions allow for even more diverse gameplay!
On top of this, new Professors dramatically change the way of brewing potions!