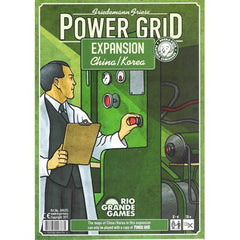 Power Grid China Korea
Product is currently unavailable. Please email us @ info[at]woodforsheep.ca with Subject: ORDER Power Grid China Korea and we will notify you once this item becomes available. Request Deposit required.
Ages: 12+
Players: 2-6
Playing Time: 60-120 minutes
Designer: Friedemann Friese
Publisher: Rio Grande Games
Requires: Power Grid
The Korean board comes with two separate resource markets (North/South).
The Chinese board has rules for the planned economy in China - power plants come out in ascending order during step 1 and step 2.