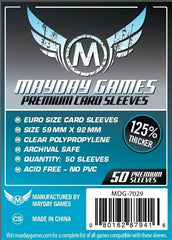 Premium Euro Card Sleeves
Product is currently unavailable. Please email us @ info[at]woodforsheep.ca with Subject: ORDER Premium Euro Card Sleeves and we will notify you once this item becomes available. Request Deposit required.
50 Sleeves per pack.
59 MM X 92 MM Sleeves for Agricola, Dominion, San Juan and more!
Check Mayday games list to see what sleeves you need for your game here.