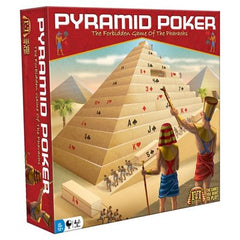 Pyramid Poker
Product is currently unavailable. Please email us @ info[at]woodforsheep.ca with Subject: ORDER Pyramid Poker and we will notify you once this item becomes available. Request Deposit required.
Ages:
Players: 2
Playing Time: 30 minutes
Designer: Aaron Weissblum, Norman Woods
Publisher: R & R Games
To set up the game, place all of the blocks face down and shuffle them. Each player then takes fifteen blocks and turns the blocks so that only they see what's on them. They take turns placing the blocks into a two-dimensional pyramid-shaped structure, again seeing only their blocks, then they take turns removing any one block from the pyramid and placing it into one of three poker hands that they're constructing. Each poker hand is competing against the one opposite it that's being built by the opponent.
If a player draws a pharaoh, they draw three face-down blocks that weren't initially chosen, discard two of them, then add the third block to one of their poker hands.
Once all the blocks have been removed, the player who wins two or three of the poker hands wins!