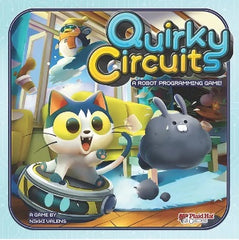 Quirky Circuits Penny & Gizmo's Snow Day
Product is currently unavailable. Please email us @ info[at]woodforsheep.ca with Subject: ORDER Quirky Circuits Penny & Gizmo's Snow Day and we will notify you once this item becomes available. Request Deposit required.
Ages: 7+
Players: 2-4
Playing Time: 15-30 minutes
Designer: Nikki Valens
Publisher: Plaid Hat Games
Help Penny and Gizmo have the best snow day ever!
Program lovable robots with your friends and family, but make sure to complete each task before batteries run out.
Every page in the scenario book has a new map with unique goals. Chase down naughty dust bunnies around the house with Gizmo! Slide into action and collect all the flags with Penny, the newest resident robot in Robotopia.
Cooperative | Maze | Robots | Scenarios | Simplified Progamming | Simultaneous Action