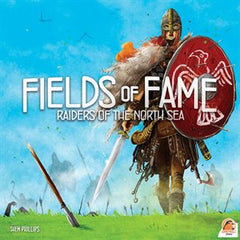 Raiders of the North Sea Fields of Fame
Product is currently unavailable. Please email us @ info[at]woodforsheep.ca with Subject: ORDER Raiders of the North Sea Fields of Fame and we will notify you once this item becomes available. Request Deposit required.
Ages: 12+
Players: 2-5
Playing Time: 60-120 minutes
Designer: Shem Phillips
Publisher: Renegade Game Studios
Requires: Raiders of the North Sea
Enemy jarls have joined forces to help defend against the onslaught of raids on their settlements. But despite their threats, there is fame awaiting those who seek to kill or subdue them. Encountering a jarl is sure to bring injury, but now is no time for the faint-hearted. Onward to the battlefield!
Includes components for an extra player.
Expansion | Resource Management | Role/Phase Selection | Set Collection | Vikings