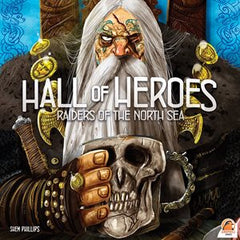 Raiders of the North Sea Hall of Heroes
Product is currently unavailable. Please email us @ info[at]woodforsheep.ca with Subject: ORDER Raiders of the North Sea Hall of Heroes and we will notify you once this item becomes available. Request Deposit required.
Ages: 12+
Players: 2-5
Playing Time: 60-120 minutes
Designer: Shem Phillips
Publisher: Renegade Game Studios
Requires: Raiders of the North Sea
A mead hall has been constructed, attracting a new breed of adventurers. Each raid brings new quests for the daring to endure. But with mead in abundance, there is little room for the wary, so sharpen your axe and ready your shield as new adventures await!
Includes components for an extra player.
Expansion | Resource Management | Role/Phase Selection | Set Collection | Vikings