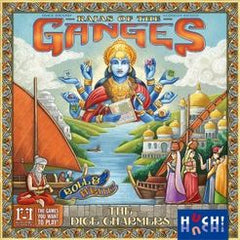 Rajas of the Ganges Dice Charmers
Product is currently unavailable. Please email us @ info[at]woodforsheep.ca with Subject: ORDER Rajas of the Ganges Dice Charmers and we will notify you once this item becomes available. Request Deposit required.
Ages: 12+
Players: 2-5
Playing Time: 30-45 minutes
Designer: Inka Brand, Markus Brand
Publisher: R & R Games
Players use eight symbol dice to develop their province, gather goods, and sell them at the market; win over influential personalities in the palace; and sail up and down the Ganges River.
You win this race for wealth and fame if you are the first to have your fame marker and your money marker intersect on the two tracks running in opposite directions.
Dice Mechanic | Economic | Role/Phase Selection | Roll and Write Variant