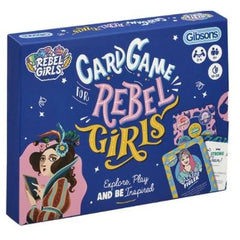 Rebel Girls
Product is currently unavailable. Please email us @ info[at]woodforsheep.ca with Subject: ORDER Rebel Girls and we will notify you once this item becomes available. Request Deposit required.
Ages: 6+
Players: 2-4
Playing Time: 10-20 minutes
Designer:
Publisher: Gibson Games
Explore, learn and play without limits!
Build a team of extraordinary leaders, warriors, pioneers, creators and champions in this original set-collecting card game that celebrates inspiring Rebel Girls from throughout history.
The aim of game is to collect and complete sets of Character Cards to score as many Rebel Reward points as possible.