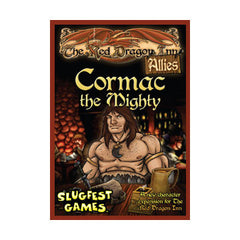 Red Dragon Inn Allies Cormac The Mighty
Product is currently unavailable. Please email us @ info[at]woodforsheep.ca with Subject: ORDER Red Dragon Inn Allies Cormac The Mighty and we will notify you once this item becomes available. Request Deposit required.
Ages: 13+
Players: 2-5
Playing Time: 45 minutes
Designer: Cliff Bohm, Geoff Bottone, Colleen Skadl
Publisher: Slugfest Games
Requires: any Red Dragon Inn games
The North was once an inhospitable and uncivilized land filled with danger and glory. But now, it's a land is filled with cities, businesses...bureaucracy! Cormac, a barbarian prince, longed for the bygone times – for a life where he could be a warrior of renown. Frustrated with the unending tedium of council meetings and trade agreements, Cormac struck out into the world to seek his own adventure!
The Good: Cormac adheres to the ancient traditions of barbarian honor.
The Bad: He also adheres to the ancient traditions of barbarian violence!
Expand the party at the Red Dragon Inn with a brand new human barbarian, introducing a new rage mechanism that allows Cormac to hit harder at the cost of gaining more than the usual amounts of Alcohol Content. Careful management of Cormac's rage level is the best way to victory!
The Red Dragon Inn: Allies is a new series of expansions for any standalone The Red Dragon Inn game. Each Allies set includes a single Character Deck, plus components to add a brand new character to your game.