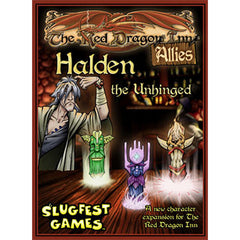 Red Dragon Inn Allies Halden the Unhinged
Product is currently unavailable. Please email us @ info[at]woodforsheep.ca with Subject: ORDER Red Dragon Inn Allies Halden the Unhinged and we will notify you once this item becomes available. Request Deposit required.
Ages: 13+
Players: 2-5
Playing Time: 45 minutes
Designer: Cliff Bohm, Geoff Bottone, Colleen Skadl
Publisher: Slugfest Games
Requires: any Red Dragon Inn games
Halden is a totem-summoning shaman with an undying amount of work to do – his ghostly clientele provides him with plenty of unusual quests. Adventuring for the dead will take its toll on anyone. After all, wouldn't you be a little off-kilter if you had to listen to restless spirits with unfinished business?
The Good: Halden can draw on the wisdom and power of countless lifetimes.
The Bad: His totems would like to remind you that he isn't making up the voices in his head.
Will you be able to master chaining his totems to maximum effect, or will your totem combos whimper? Take this off-kilter adventurer for a spin and find out!
The Red Dragon Inn: Allies is a new series of expansions for any standalone The Red Dragon Inn game. Each Allies set includes a single Character Deck, plus components to add a brand new character to your game.