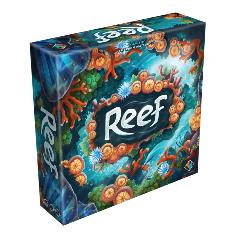 Reef
Product is currently unavailable. Please email us @ info[at]woodforsheep.ca with Subject: ORDER Reef and we will notify you once this item becomes available. Request Deposit required.
Ages: 8+
Players: 2-4
Playing Time: 30-45 minutes
Designer: Emerson Matsuuchi
Publisher: Next Move
Explore the beauty of the ocean's depths!
During the game, players serve as the reef itself, alternating turns carefully selecting which colors and patterns in which to grow and expand - the more beautiful the reef, the more points they will score!