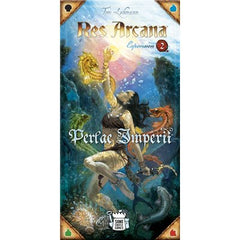 Res Arcana Perlae Imperii
Product is currently unavailable. Please email us @ info[at]woodforsheep.ca with Subject: ORDER Res Arcana Perlae Imperii and we will notify you once this item becomes available. Request Deposit required.
Ages: 12+
Players: 2-5
Playing Time: 20-60 minutes
Designer: Thomas Lehmann
Publisher: Sand Castle Games
Requires: Res Arcana
On a wild coast, a seafaring mage prepares to dive to a magical pearl bed in search of a pearl of power. Meanwhile, a dragon tamer travels to Blood Isle to seek an ancient dragon.
New essence type is introduced — pearls — to aid mages in creating powerful artifacts in their quest for mystical domination. As their purity is coveted by all, pearls of power both add versatility to existing strategies and open up new paths to victory.
Draft | Expansion | Fantasy | Resource Management | Variable Player Abilities