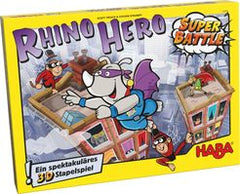 Rhino Hero Super Battle
Product is currently unavailable. Please email us @ info[at]woodforsheep.ca with Subject: ORDER Rhino Hero Super Battle and we will notify you once this item becomes available. Request Deposit required.
Ages: 5+
Players: 2-4
Playing Time: 10 minutes
Designer: Scott Frisco, Steven Strumpf
Publisher: Haba
Rhino Hero is back on the job — and this time not only does the wobbly skyscraper need to be climbed, but there will also be fierce battles between the four super-heroes: Rhino Hero, Giraffe Boy, Big E. and Batguin. Who will win the battles and not let themselves be bothered by the mean, hanging spider monkeys?