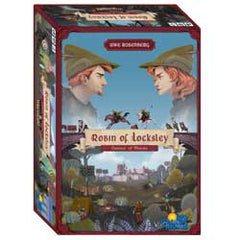 Robin of Locksley
Product is currently unavailable. Please email us @ info[at]woodforsheep.ca with Subject: ORDER Robin of Locksley and we will notify you once this item becomes available. Request Deposit required.
Ages: 10+
Players: 2
Playing Time: 30-45 minutes
Designer: Uwe Rosenberg
Publisher: Rio Grande Games
Each player is "Robin Hood" from the English legend. Players move around a grid collecting loot that is used to fulfill challenges which allow advancement along the race track. The first player to complete 2 laps around the circuit is the winner.