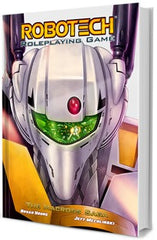 Robotech RPG Macross Saga
Product is currently unavailable. Please email us @ info[at]woodforsheep.ca with Subject: ORDER Robotech RPG Macross Saga and we will notify you once this item becomes available. Request Deposit required.
As the cockpit of your VF-1A slowly closes, you hear a small hiss of the compartment pressurizing. The elevator slowly raises. At first all you see is the void of deep space. Then, you see the flight deck. Ahead of you a large swarm of Zentraedi Pods races toward your home. Luckily, you have friends. They will watch your back, or at least, console your love if you don't make it home. Now is your time to do you job. You have a two protoculture driven engines, 200 rounds of exploding ammo, and three transformable modes.
Play as an iconic Robotech Hero, or build your own.
Robots | Roleplaying | Sci-fi | Spin-off