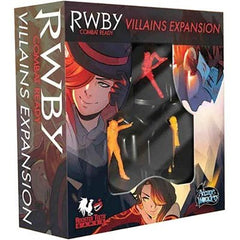 RWBY Combat Ready Villains
Product is currently unavailable. Please email us @ info[at]woodforsheep.ca with Subject: ORDER RWBY Combat Ready Villains and we will notify you once this item becomes available. Request Deposit required.
Ages: 14+
Players: 2-5
Playing Time: 45-75 minutes
Designer: Bryan Pope, Benjamin Pope
Publisher: Arcane Wonders
Requires: RWBY Combat Ready
Enhance your gameplay by replacing the token in the base game with miniatures of each of the three Villains, and introduce exciting new attacks, actions and special events to provide new challenges for team RWBY!
Combat | Cooperative | Expansion | Spin-off | Variable Player Abilities