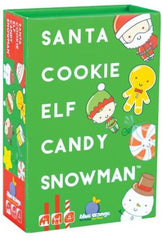 Santa Cookie Elf Candy Snowman
Product is currently unavailable. Please email us @ info[at]woodforsheep.ca with Subject: ORDER Santa Cookie Elf Candy Snowman and we will notify you once this item becomes available. Request Deposit required.
Ages: 8+
Players: 3-8
Playing Time: 10 minutes
Designer: Dave Campbell
Publisher: Blue Orange Games
The premise of these games is simple - say the next word in the pattern (in this version, "Santa, cookie, elf, candy, snowman") and at the same time flip a card from your personal deck. If it matches the pattern word you said then everyone slaps the card pile. Whoever is last takes the pile and adds it to their personal deck. Similarly, special cards require everyone do a specific action and then not be the last to slap the deck afterwards. The game ends when one player successfully plays all the cards in their personal deck.
Big Group | Dexterity | Humour | Matching | Party | Pattern Recognition | Real-time | Simultaneous Action