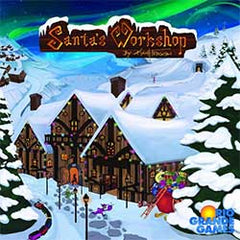 Santa's Workshop
Product is currently unavailable. Please email us @ info[at]woodforsheep.ca with Subject: ORDER Santa's Workshop and we will notify you once this item becomes available. Request Deposit required.
Ages: 14+
Players: 2-5
Playing Time: 45-60 minutes
Designer: Keith Ferguson
Publisher: Rio Grande Games
It's the busiest time of the year at the North Pole, with only days to go until Santa leaves to make his yearly trip around the world! After his long night, and all the work that led up to it, Santa always takes a vacation somewhere sunny and warm. As a reward for helping bring joy to children around the world, Santa takes his hardest working team of elves with him!
Can you lead your team of elves to claim their well-deserved reward? Not only are there toys to be built, but reindeer to be tended and coal to be mined (sadly, not all the children are on the "nice" list). Candy canes and gingerbread houses are nice, but by working hard—and smartly—you and your team of elves may find yourselves on a beach drinking something with an umbrella in it…