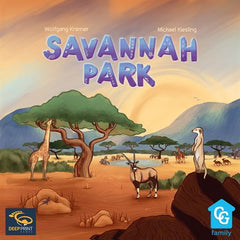 Savannah Park
Ages: 8+
Players: 1-4
Playing Time: 20-40 minutes
Designer: Michael Kiesling, Wolfgang Kramer
Publisher: Capstone
You run a park home to some of the most fascinating wild animals in the world, and you have a lot to do. You must gather each type of animal into large herds, lead them to watering holes, and protect them from brush fires. A tricky task – especially as each animal can only move once, and your opponents have a say in when!
Simple rules offer great variety and countless replays. An engaging gaming experience for both families and advanced play groups.
Compete to have the best park!
Animals | Pattern Building | Puzzle | Set Collection | Solo Mode | Tiles