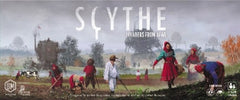 Scythe Invaders from Afar
Product is currently unavailable. Please email us @ info[at]woodforsheep.ca with Subject: ORDER Scythe Invaders from Afar and we will notify you once this item becomes available. Request Deposit required.
Ages: 14+
Players: 1-7
Playing Time: 90-120 minutes
Designer: Jamey Stegmaier
Publisher: Stonemaier Games
Requires: Scythe
While empires rise and fall in Eastern Europa, the rest of the world takes notice. Two distant factions, Albion and Togawa, send emissaries to scout the land and employ their own distinct styles of conquering.
This expansion adds two new factions, and includes new cardboard tokens, two new player mats, six Automa cards, and a custom plastic insert.
Area Control | Combat | Expansion | Farming | Variable Player Abilities