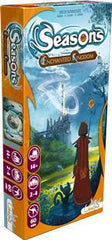 Seasons Enchanted Kingdom
Product is currently unavailable. Please email us @ info[at]woodforsheep.ca with Subject: ORDER Seasons Enchanted Kingdom and we will notify you once this item becomes available. Request Deposit required.
Ages: 14+
Players: 2-4
Playing Time: 45 minutes
Designer: Régis Bonnessée
Publisher: Asmodee Editions
Requires: Seasons
The first expansion pack for Seasons – features 40 new Power cards compatible with the 100 cards from the base game, 10 Enchantment cards to make every game an even more unique experience, and 12 Special Ability tokens that add a personal touch to your sorcerer.
Asmodee | Draft | Expansion | Fantasy | Resource Management