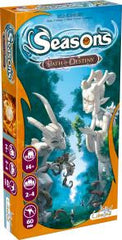 Seasons Path of Destiny
Product is currently unavailable. Please email us @ info[at]woodforsheep.ca with Subject: ORDER Seasons Path of Destiny and we will notify you once this item becomes available. Request Deposit required.
Ages: 14+
Players: 2-4
Playing Time: 45 minutes
Designer: Régis Bonnessée
Publisher: Asmodee Editions
Requires: Seasons
The battle between the kingdom's most powerful sorcerers rages on, as each is convinced of his glorious triumph. Master fickle fate, command new and exciting magic, and claim your rightful title as ruler of the Path of Destiny!
This expansion adds new powers, enchantments, special abilities and the powerful Die of Destiny. New combinations and brilliant strategies await your discovery.
Asmodee | Draft | Expansion | Fantasy | Resource Management