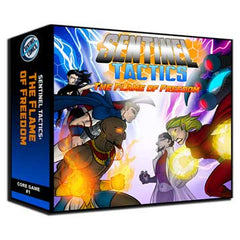 Sentinel Tactics Flame of Freedom
Product is currently unavailable. Please email us @ info[at]woodforsheep.ca with Subject: ORDER Sentinel Tactics Flame of Freedom and we will notify you once this item becomes available. Request Deposit required.
Ages: 8+
Players: 2-8
Playing Time: 30-60 minutes
Designer: Christopher Badell, Luther Bell Hendricks V,
Kevin G. Nunn
Publisher: Greater Than Games
The hex-grid, dice-based combat game that puts you in control of the heroes and villains who meet in battle across the thrilling comic book pages of Sentinel Comics! Go head-to-head in skirmish play, or experience the stories by playing through the included Scenario Books!
Combat takes place on a hex-grid map, and attack and defense is based on the rolling of six-sided dice. This team-based game, pits groups of heroes and villains against each other; cooperate against either a villain player or players, or against another team of players!
Will you take the role of the stalwart heroes or the dastardly villain?
Combat | Modular Board | SOTM | Superheroes | Team Play | Tiles