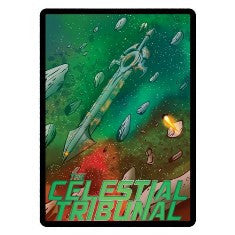 Sentinels of the Multiverse Celestial Tribunal
Product is currently unavailable. Please email us @ info[at]woodforsheep.ca with Subject: ORDER Sentinels of the Multiverse Celestial Tribunal and we will notify you once this item becomes available. Request Deposit required.
Ages: 8+
Players: 2-5
Playing Time: 60 minutes
Designer: Christopher Badell, Paul Bender
Publisher: Greater Than Games
Requires: Sentinels of the Multiverse
In the far reach of space, there drifts a colossal unmanned factory, shaped like a sword. None know the true origins of the vessel, but it is posited that some ancient alien race built the factory and its rules to act as judge and jury for their home planet. The ship has an impartial A.I. that judges the actions of sentient life-forms it encounters. Then, if it senses any impropriety, it dispenses its executioners.
An environment mini-expansion for the Sentinels of the Multiverse Card Game. This mini-expansion includes a unique deck of 15 cards and a divider card.
Combat | Cooperative | Expansion | SOTM | Superheroes