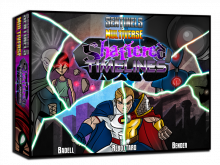 Sentinels of the Multiverse Shattered Timelines
Product is currently unavailable. Please email us @ info[at]woodforsheep.ca with Subject: ORDER Sentinels of the Multiverse Shattered Timelines and we will notify you once this item becomes available. Request Deposit required.
Ages: 8+
Players: 2-5
Playing Time: 60 minutes
Designer: Christopher Badell, Paul Bender,
Richard Launius
Publisher: Greater Than Games
Requires: Sentinels of the Multiverse
This latest expansion features two new time-traveling heroes, four villains (some of which may be familiar to Sentinels fans), and two time-displaced environments! Besides just expanding the number of characters and environments available to players, Shattered Timelines introduces new mechanisms and exciting new challenges. Can you repair time before it runs out?!
Combat | Cooperative | Expansion | SOTM | Superheroes