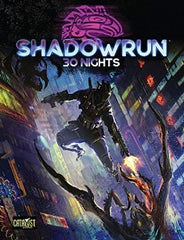 Shadowrun Sixth World (6th) 30 Nights
Product is currently unavailable. Please email us @ info[at]woodforsheep.ca with Subject: ORDER Shadowrun Sixth World (6th) 30 Nights and we will notify you once this item becomes available. Request Deposit required.
It introduces players to new rules and new plot lines, plunging them into the growing chaos in the UCAS as they look into the source of a mysterious blackout plaguing Toronto.
The adventures can be played as a single gaming session to introduce players to the new rules, multiple sessions hitting highlights from the adventures, or a detailed campaign propelling the players through each of the 30 nights of the blackout and ensuing chaos.