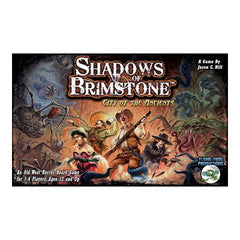 Shadows of Brimstone City Of The Ancients
Product is currently unavailable. Please email us @ info[at]woodforsheep.ca with Subject: ORDER Shadows of Brimstone City Of The Ancients and we will notify you once this item becomes available. Request Deposit required.
Ages: 12+
Players: 1-4
Playing Time: 120 minutes
Designer: Jason Hill
Publisher: Flying Frog
A fast-paced, fully cooperative, dungeon-crawl board game set in the Old West, with a heavy dose of unspeakable horror!
Players create characters, taking on the role of a classic Western Hero Archetype, such as the Law Man, Gunslinger, or Saloon Girl. Forming an adventuring posse, the Heroes venture down into the dark mines, overrun with all manner of ancient demons and foul creatures from another world. With tactical game play, lots of dice, and a robust card-driven exploration system, no two games are ever the same as the heroes explore the mines finding new enemies to fight, new loot to collect, and new dangers to overcome. Players can even find portals to other worlds, stepping through to continue their adventures on the other side!
So load up yer' six shooter, throw on yer' hat and poncho, and gather the posse as the darkness is coming, and all hell's about to break loose!
Adventure | American West | Cooperative | Horror | Modular Board | Variable Player Abilities