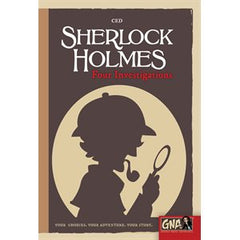 Sherlock Holmes Four Investigations
Product is currently unavailable. Please email us @ info[at]woodforsheep.ca with Subject: ORDER Sherlock Holmes Four Investigations and we will notify you once this item becomes available. Request Deposit required.
Ages: 10+
Players: 1
Playing Time: 30-130 minutes
Designer: Cédric Asna
Publisher: Van Ryder Games
It will take every bit of intuition and deductive reasoning you can muster to solve the cases in this one!
Choose to play as Dr. John Watson or as Sherlock himself. The unique system allows you to play over and over without learning the solutions of each case until you have successfully solved them. But will you be able to ignore your curiosity and play through it again without looking at the solutions?