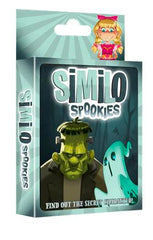 Similo Spookies
Product is currently unavailable. Please email us @ info[at]woodforsheep.ca with Subject: ORDER Similo Spookies and we will notify you once this item becomes available. Request Deposit required.
Ages: 8+
Players: 2-8
Playing Time: 10-15 minutes
Designer: Martino Chiacchiera, Hjalmar Hach,
Pierluca Zizzi
Publisher: Horrible Guild
A cooperative deduction game where your goal is to make the other players guess one secret character by playing other character cards from your hand as clues, stating whether they are similar to or different from the secret character.