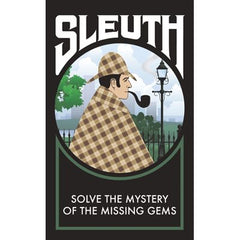 Sleuth
Product is currently unavailable. Please email us @ info[at]woodforsheep.ca with Subject: ORDER Sleuth and we will notify you once this item becomes available. Request Deposit required.
Ages: 10+
Players: 3-7
Playing Time: 30-45 minutes
Designer: Sid Sackson
Publisher: Fred Distribution
Players are searching for a hidden gem, one of 36 gem cards hidden before the start of the game. The remainder of this gem deck – with each card showing 1-3 diamonds, pearls or opals in one of four colors – is distributed evenly among the players, with any remaining cards laid face up. Thus, you and everyone else starts with some information about what's not missing.
A second deck contains 54 search cards, each showing one or two elements, such as diamonds, pairs, blue opals, red pearls, or an element of your choice. Each player receives four face-up search cards; on a turn, you choose one of those cards and ask an opponent how many gem cards they have of the type shown. If you ask for, say, pairs, the player must tell you how many pairs they hold but not which specific pairs; if you ask for something more specific, say, red diamonds, the player reveals to everyone how many such cards she holds while you get to look at them in secret.