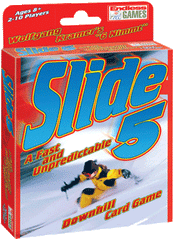 Slide 5
Product is currently unavailable. Please email us @ info[at]woodforsheep.ca with Subject: ORDER Slide 5 and we will notify you once this item becomes available. Request Deposit required.
Ages: 8+
Players: 2-10
Playing Time: 30 minutes
Designer: Wolfgang Kramer
Publisher: Endless Games
A quick-to-learn card game of luck and strategy. Players arrange their cards on the playing surface building "hills." Once a hill gets 5 cards high, the 6th card will cause an "Avalanche" and that player must take all of the cards in that row, leaving the6th card to start a new hill. With all players revealing the cards they wish to play at the same time, there's always unpredictable fun and dilemma at every turn! Slide 5 is easy to learn and instantly addictive!