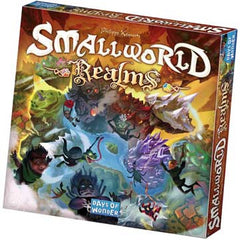 Small World Realms
Product is currently unavailable. Please email us @ info[at]woodforsheep.ca with Subject: ORDER Small World Realms and we will notify you once this item becomes available. Request Deposit required.
Ages: 8+
Players: 2-5
Playing Time: 80 minutes
Designer: Philippe Keyaerts
Publisher: Days Of Wonder
Requires: Small World or Small World Underground
Small World Realms includes scores of puzzle-like geomorphic Terrain regions that are assembled into variously sized and shaped board maps. Players can also create their own maps and scenarios using the components included.