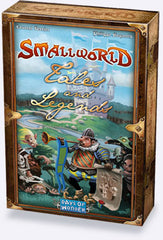 Small World Tales and Legends
Product is currently unavailable. Please email us @ info[at]woodforsheep.ca with Subject: ORDER Small World Tales and Legends and we will notify you once this item becomes available. Request Deposit required.
Ages: 8+
Players: 2-5
Playing Time: 80 minutes
Designer: Philippe Keyaerts, Laurent Verrier
Publisher: Days Of Wonder
Requires: Small World
Will you end up drinking the Philter of Forgetfulness, be flung from the Great Catapult, or even have a chance to seduce the White Queen?
Thanks to this new expansion for Small World, the wise veterans of the game now have a chance to re-write History...
Tales & Legends introduces 54 new Event cards that change the storyline of each turn during the game. Some events may have small consequences, while others are nearly cataclysmic in their impact.