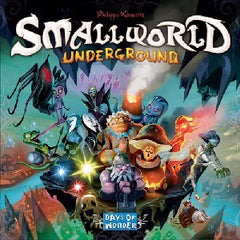 Small World Underground
Product is currently unavailable. Please email us @ info[at]woodforsheep.ca with Subject: ORDER Small World Underground and we will notify you once this item becomes available. Request Deposit required.
Ages: 8+
Players: 2-5
Playing Time: 80 minutes
Designer: Philippe Keyaerts
Publisher: Days Of Wonder
Requires: Small World (optional)
Small World Underground is a stand-alone game set beneath the surface of the same fun, light-hearted Small World universe of epic conquests and fallen empires.
The game features all new Races and Special Powers, and introduces Monster occupied regions that protect Relics and Places of great power!