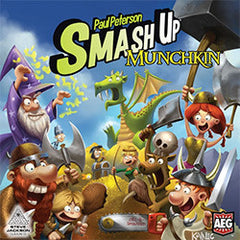 Smash Up Munchkin
Product is currently unavailable. Please email us @ info[at]woodforsheep.ca with Subject: ORDER Smash Up Munchkin and we will notify you once this item becomes available. Request Deposit required.
Ages: 12+
Players: 2-4
Playing Time: 45 minutes
Designer: Paul Peterson
Publisher: Alderac Entertainment Group
Requires: Smash Up (optional)
History records many great pairings. Death and taxes. Peanut butter and chocolate. Cats and cheeseburgers.
Now we've smashed up Munchkin with Smash Up!
The factions in this set are Munchkin races and classes: Orcs, Warriors, Halflings, Clerics, Dwarves, Elves, Thieves, and Mages! All the factions have different powers, and every team-up is different.
This set may be played by itself, but all the factions are fully compatible with your existing Smash Up sets. There are also two brand-new card types. Monsters lurk around the bases, and Treasures give you new rewards when you smash a base!
Aliens | Army Building | Combat | Dinosaurs | Expansion | Pirates | Spin-off