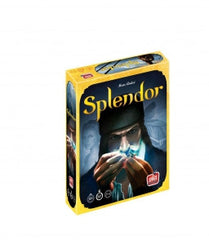 Splendor
Product is currently unavailable. Please email us @ info[at]woodforsheep.ca with Subject: ORDER Splendor and we will notify you once this item becomes available. Request Deposit required.
Ages: 10+
Players: 2-4
Playing Time: 30 minutes
Designer: Marc Andre
Publisher: Space Cowboys
As a wealthy Renaissance merchant, acquire mines and transportation, hire artisans and woo the nobility. Create the most fantastic jewelry to become the best-known merchant of them all! Acquire precious stones to trade them for development cards. Use development cards to acquire more gem stones. Use your gems and gold to create the most fantastic jewelry, and appeal to the nobles to gain the prestige you need to win.
Resource Management | Set Collection | Spiel des Jahres Nominee