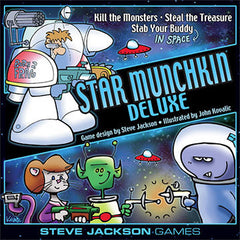 Star Munchkin Deluxe
Product is currently unavailable. Please email us @ info[at]woodforsheep.ca with Subject: ORDER Star Munchkin Deluxe and we will notify you once this item becomes available. Request Deposit required.
Ages: 13+
Players: 3-6
Playing Time: 60 minutes
Designer: Steve Jackson
Publisher: Steve Jackson Games
The Munchkins are back - but now they're in space! Now they're Mutants, Androids, and Cat People... grabbing Lasers, Vibroswords, and Nova Grenades... fighting Fanged Fuzzballs, Bionic Bimbos, and the Brain In A Jar. This is a complete game using the best-selling Munchkin rules (with a few new twists like Sidekicks). Yes, it CAN be combined with Munchkin!
Dungeon Crawling | Munchkin | Parody | Party | Sci-fi | Space